ABOUT THE FIELD:
What is Aging Services?
You may hear aging services referred to in a number of different ways: Long-term Care, Senior Care, Senior Services, Elder Care. The truth is, aging services is made up of many different facets, each providing unique services for older adults in the places they call home. You could look at it as an "ecosystem" of care and services for older adults. Here is a quick rundown of the different levels of care...
Life Plan Communities (CCRCs):
A Life Plan Community or Continuing Care Retirement Community, encompasses multiple levels of care. Residents can move into a Life Plan Community at the Independent Living level and utilize services as they are needed in the future. A typical community offers Independent Living > Personal Care or Assisted Living > Skilled Nursing Care. These communities also often have specialized memory support neighborhoods and numerous enrichment activities.
Career Paths in Life Plan Communities include: Executive Director, Chef, Server, Barista, Activities Director, Maintenance, Information Technology (IT), Construction, Grounds/Landscaping, Security, Hospitality, Marketing, Nurse, Nurse Aide, Housekeeper, Concierge, and more.
Skilled Nursing Care, more commonly referred to as a nursing home, provides both short-term rehabilitation as well as long-term healthcare services, social services, and activities for those who need support around the clock.
Career paths in skilled nursing include: Registered Nurse (RN), Licensed Practical Nurse (LPN), Certified Nurse Aide (CNA), Housekeeping, Maintenance, Hospitality, Cook, Dietician, Therapist, Social Worker, Administrator, Scheduler, Health Information Assistant (HIA), Financial/Billing Assistant, Executive Director, Nursing Home Administrator, Director of Nursing, and more.
Personal Care/Assisted Living:
Personal Care/Assisted Living communities provide care and support for residents who may have difficulty with their activities of daily living, such as dressing, bathing, and medication management, but do not need around-the-clock health care. The difference between the two is subtle, having to do with licensing and the specific care needs of those residing in them.
Careers in Personal Care/Assisted Living include: Personal Care/Assisted Living Administrator, Registered Nurse (RN), Licensed Practical Nurse (LPN), Certified Nurse Aide (CNA), Personal Care Aide, Housekeeper, Scheduler, Administrative Assistant, Social Worker, Hospitality, Maintenance, Grounds, Laundry, Security, Cook, Therapist, Server, and more.
Memory Care communities provide care and support specifically for residents who suffer from Dementia or Alzheimer's disease. These are typically at either the Personal Care/Assisted Living or Skilled Nursing care levels.
Home and community-based services also offer memory support through one-on-one care at home or through programs like Adult Day services.
Independent Living communities provide housing for older adults. Independent Living comes in many different forms, including single-family homes, condos, or apartments. Depending on the community, some independent living settings may offer additional services including meals and community activities. Often seniors move into an independent living residence when they first arrive at a Life Plan/Continuing Care Retirement Community.
Home and Community-Based Services:
Home and Community-Based Services (HCBS) are supportive services that help individuals live safely at home while still accessing the care and support they need. This could come in the form of Home Care, Home Health Care, and Adult Day Programs, among other options.
Careers in HCBS include: Home Care Aide, Certified Nursing Assistant, Driver, Social Worker, Scheduler, Adult Day Program Assistant, Home Health Aide, Therapist, Program Director and more.
Affordable Senior Housing:
Affordable senior housing communities provide safe and affordable independent living options for older adults.
Living Independence For the Elderly (LIFE) or PACE providers coordinate, manage, and provide healthcare services to older adults at a centralized location.
When we talk about working in aging services, you will likely hear the phrase "long-term care continuum". This refers to the idea that older adults need and desire different levels of care and support as the age. Explore the various types of supports that are hiring near you in Pennsylvania.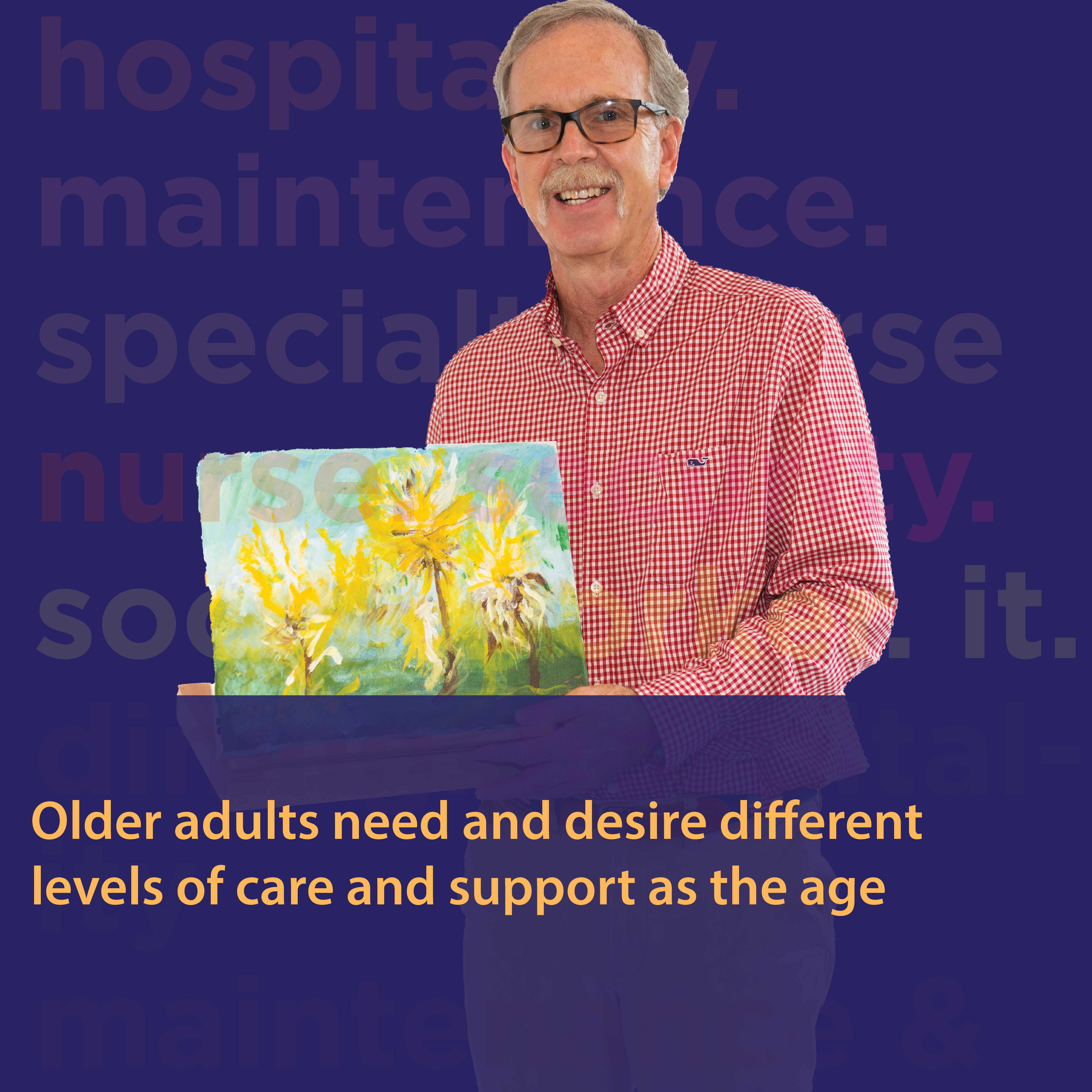 Find a career that loves you back