LeadingAge PA is a trade association representing over 400 non-profit and mission-driven aging services organizations in Pennsylvania
Mission
To advance the evolving continuum of aging services in Pennsylvania
Vision
To serve as the preeminent advocate for facilitating change and inspiring its members to positively impact the field of aging services in Pennsylvania
Values
Dedicated to helping our members advance the vision of healthy, affordable, ethical aging services.
LeadingAge PA is committed to and values:
Respecting and celebrating diversity
Encouraging innovation and forward-thinking
Upholding ethical- and people-centered business practices
Being member-driven, consumer-focused, and knowledge-based
Providing leadership, and targeted advocacy based on data and research to meet the changing needs of our members and those they serve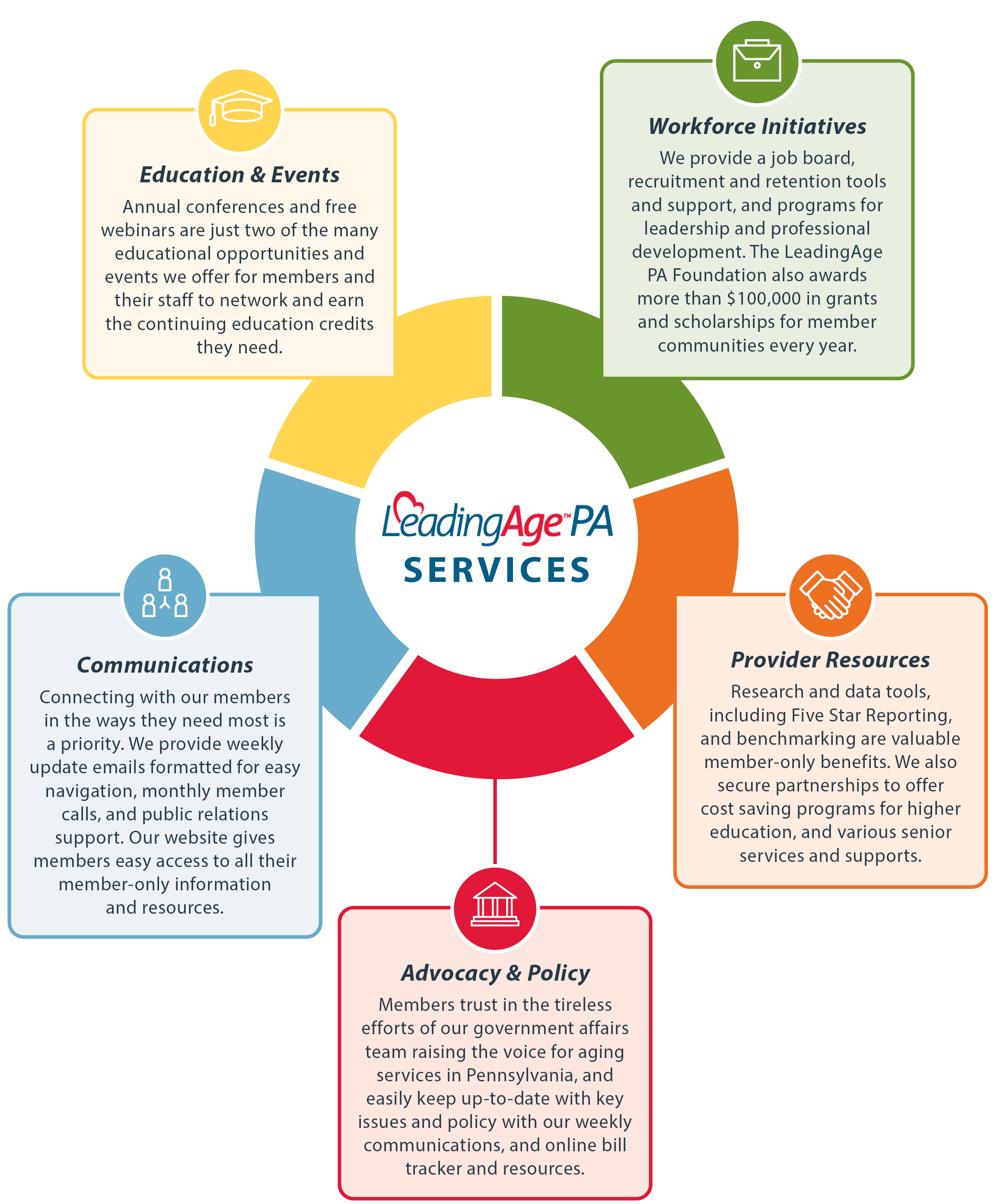 Mission-driven, high-quality senior service providers across Pennsylvania
LeadingAge PA represents 400+ member organizations from across the continuum of aging services in Pennsylvania, all of which have a strong commitment to providing the best quality of life and care to all members of their community.
LeadingAge PA members:
Show an indisputable

commitment to quality

of care, and are authentic in their compassion and prioritization of all members of their community.

Value working with the

aging services community

to better support senior services and the quality of care across the commonwealth as we emerge from the pandemic.

Dedicate resources

to create communities that allow aging adults to enjoy active, healthy lifestyles during retirement and receive compassionate care as needed.

Are a part of a community of senior services providers,

growing together

through meaningful educational events, networking, and collaborations throughout the year.

Take advantage of the vast

opportunities

to support the Association, including volunteer taskforces and committees, grassroots advocacy efforts, and leadership and mentorship programs.