LTSS Evolve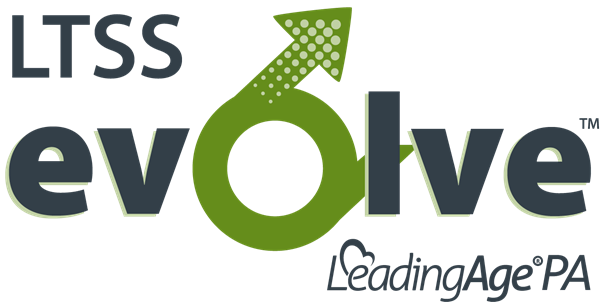 A LeadingAge PA movement to ignite change within the aging services ecosystem and evolve the way care is delivered and regulated in Pennsylvania.
Join the movement.
Contact Anna Warheit, Director of Regulatory Affairs, to find out how you can get involved.
LTSS Evolve
...is an ongoing movement led by LeadingAge PA that strives to keep care recipients at the center of the aging services ecosystem in Pennsylvania.
Launched in spring 2023, LTSS Evolve aims to identify and address antiquated, redundant, and overly burdensome long-term services and supports (LTSS) rules, regulations, policies, and guidances by engaging policymakers at the state level.
These outdated requirements often result in unnecessary costs and impede the provision of true quality care by taking away valuable time and resources that could be better spent serving residents or participants.
Centered around direct input from mission-driven providers and residents across the aging services ecosystem, LTSS Evolve PA is the driving force behind LeadingAge PA's advocacy efforts to find modern regulatory and legislative solutions to problematic state provisions.
Vision Statement
LeadingAge PA will be a leading force in modernizing, organizing, and energizing the aging services ecosystem. Our vision for LTSS Evolve is to lay a new foundation for long-term care and senior services in Pennsylvania -- one which allows providers to play an active role in evolving how they care for older adults, with the goal of spending more time directly engaging with care recipients and being valued in their local communities and across the Commonwealth.
Ready to learn more? Read Frequently Asked Questions.
Core Advisory Group
Special thanks to the below LeadingAge PA members who are helping to facilitate various aspects of this initiative and are serving as a guidepost to our Government Affairs team:
John Whitman, Chandler Hall
Lora Gombac, Garden Spot Communities
Lisa Malosh, Presbyterian SeniorCare
Vicki Loucks, Redstone Presbyterian SeniorCare
Suzanne Owens, Peter Becker Community
Jonathan Hollinger, Pleasant View Retirement Community
Lisa Johnson, Bradford Ecumenical Home
Brian Nageotte, Wesbury United Methodist
Rachel Wachter, Laurel View Village
Bobbie Gray, Presbyterian SeniorCare
Missy Weishaar, MSN Student Volunteer