Professional Development Scholarships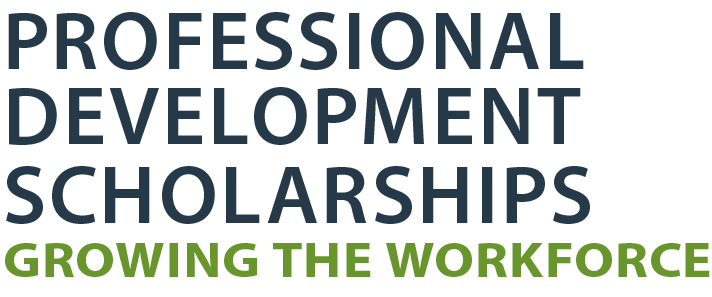 Professional Development Scholarships are closed.
Thank you!
Each year, LeadingAge PA awards scholarships that enhance opportunities for staff of member communities who are pursuing further education, training, and certification — both within and outside of the field of nursing. We are proud to award $40,000 in professional development scholarships in 2023 and we look forward to continuing to support LeadingAge PA member staff with their professional goals!
The 2023 application window opens February 28, 2023 and will close March 28, 2023.
To ensure consideration, applicants must submit the following fully completed application components:
Fully completed LeadingAge PA Professional Development Scholarship Application
Proof of acceptance or enrollment in an acceptable program of study
Copy of transcripts or most recent grade report, if applicable
One recommendation form completed by someone familiar with the applicant's professional work performance such as an organization leader, director, supervisor, or manager. References from friends, family, or coworkers will not be accepted.
It is the responsibility of the scholarship applicant to ensure applications are complete. Applications that fail to meet the eligibility criteria or are incomplete will not be considered for review. Applicants will receive notification of their acceptance status by late spring 2023. Any questions about the scholarship, eligibility requirements, or application components can be directed to Erin McDermott at emcdermott@leadingagepa.org.
Eligibility Requirements:
The LeadingAge PA Professional Development Scholarship Program is available to staff of parent and voting members of LeadingAge PA who:
Have been employed by a LeadingAge PA member in Pennsylvania for at least one year
Agree to maintain a record of acceptable employment during the scholarship year
Are accepted or enrolled in an acceptable college, university, training, or certification program in areas of study including nursing related fields (i.e. CNA, LPN, RN, BSN, MSN, etc.) and non-nursing related fields (i.e. food service, therapy, social work, management, accounting, marketing, engineering, hospitality, etc.) with the intention of benefiting the senior services sector.
A selection task force comprised of LeadingAge PA members and staff will determine awardees and reserve the right to add, remove, or waive eligibility criteria as deemed necessary. The selection task force will work to ensure transparencey and fairness throughout the selection process. The total number of scholarships awarded for each category is based on the number of applications received. LeadingAge PA also reserves the right to confirm the eligibility of applicants.