Q: What is your favorite holiday and why?
A: Christmas Eve is my favorite holiday. Being Italian, my family has always celebrated Christmas on December 24 with the Feast of the Seven Fishes. I look forward to that day all year long because it's a small gathering with just immediate family. I love the tradition, the celebration, and the food.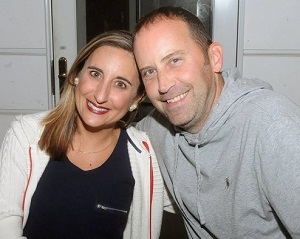 Q: What topic could you spend hours talking about?
A: Food, true crime, or TV shows would be just some of the topics i could spend hours talking about. But, I could talk about most anything because I like to talk!
Q: What is your favorite hobby?
A: Assembling jigsaw puzzles is a favorite pastime. I especially enjoy working on ones that look like artwork once completed. In fact, I have framed some of my most loved puzzles to display throughout our home.
Q: What unusual food combinations do you really enjoy?
A: My sister and brother-in-law introduced me to this - jalapeno cream cheese with strawberry jam on a toasted sesame seed or everything bagel. I'm very specific about this: the bagel must be toasted. It tastes similar to the appetizer of pepper jam and cream cheese on a cracker. Thanks to my father, I also really enjoy peanut butter and tomato sandwiches on toast.
Q: If animals could talk, which animal would be the most annoying?
A: If they could talk, squirrels would be the most annoying animal. They are always so busy with scurrying around, gathering nuts, and climbing trees that if they had the ability to speak, I'm sure their chatter would be just as energetic.
Strategy Officer since 2019
Natalie MacDonald, Strategy Officer, is responsible for cultivating and maintaining relationships with LeadingAge PA business members and sponsors. Additionally, MacDonald identifies strategic partnerships for the association and oversees administrative, finance, and operations.

In addition to her extensive communications and marketing experience, she is a CARF surveyor and a Resilient Leadership trainer. She earned her degree in Specialized Business from the PA Institute of Culinary Arts.