Alumni Council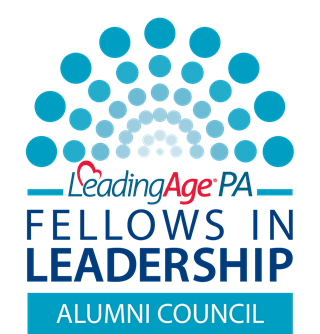 Registration is now open!
Fellows Alumni Leadership Summit
OCTOBER 4 I 8:30 – 11 AM
Mark your calendars for our annual Fellows in Leadership Alumni Council event: the 2023 Alumni Leadership Summit!
This year, the Summit will be a virtual event featuring short presentations, along with breakout discussions on the following topics:

Diversity, Equity, and Inclusion
Dementia
Staffing
Cost Savings
2 NHA/PCHA credits will be offered! You won't want to miss this opportunity to learn and network with fellow Alumni
Since the inception of LeadingAge PA's Fellows in Leadership program in 2010, more than 192 leaders have graduated from the program. Graduates desire additional opportunities for ongoing networking, sharing of best practices, cross-pollination of ideas and collegial support, but some have lost touch with other graduates and are unsure how to connect.
LeadingAge PA renewed its commitment in 2019 to support a Fellows Alumni program, and the Alumni Council was developed. Ongoing resources such as networking opportunities, mentorship and continuing leadership education will foster a self-led and like-minded alumni network. Fellows in Leadership program graduates are all members of the Alumni Council!
What are the benefits of being a part of the Alumni Council?
Alumni Only free registration for continuing leadership education events

Leadership Summit - Spring
Day of Exploring - Fall

Alumni Only LeadingAge PA Annual Conference Alumni Dinner
Opportunity to serve on the Alumni Steering Committee
Opportunity to serve on Fellows in Leadership Selection Taskforce
Opportunity to be a mentor in the LeadingAge PA Mentoring Program
Recognition at LeadingAge PA Annual Conference
Access to LeadingAge PA Alumni Community Lounge
Alumni golf competition during the Annual Conference Golf Tournament
What can you do as an Alumni?
Promote and champion the Fellows in Leadership program to prospective participants within your organization
Wear your Fellows Alumni Pin at public events
Volunteer to man a table with information about the program at conferences or events
Facilitate an alumni-only leadership education session
Become involved with the LeadingAge PA Mentoring program for the current class of Fellows
Serve as resource to current Fellows for their Learning Lab project
Serve on the LeadingAge PA Fellows in Leadership Selection Taskforce to select new classes
Are you interested in speaking or mentoring?
Fill out the interest form below!
Ready to get involved with your fellow Alumni?
Reach out to education@leadingagepa.org today to get connected with the Fellows in Leadership Alumni Council!
Fellows in Leadership
Alumni Council is proudly
sponsored by